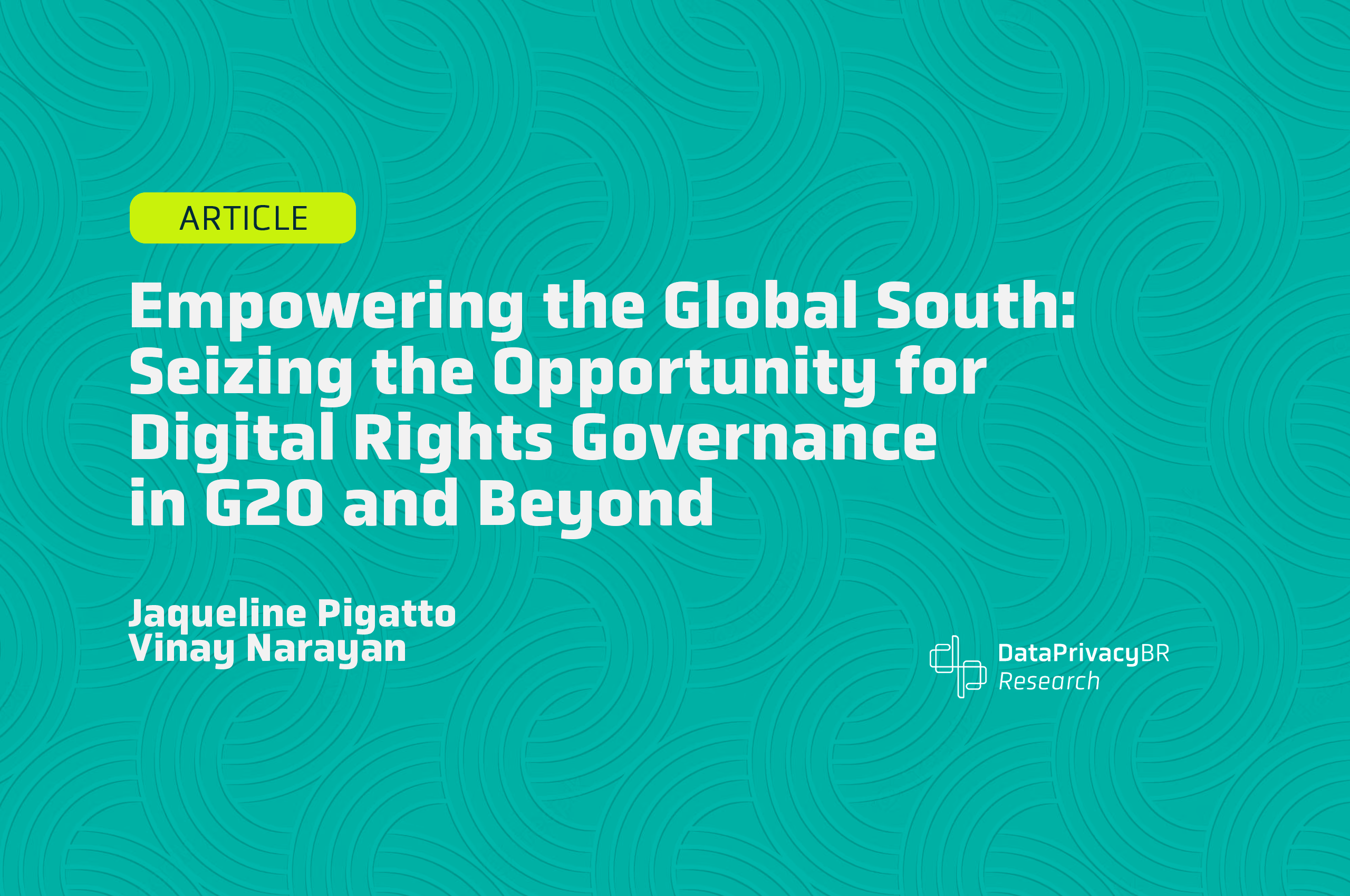 Empowering the Global South: Seizing the Opportunity for Digital Rights Governance in G20 and Beyond
The G20 represents a critical policy space for addressing emergent challenges on a global scale and its importance as a platform is pronounced when we consider its significance for the Global South.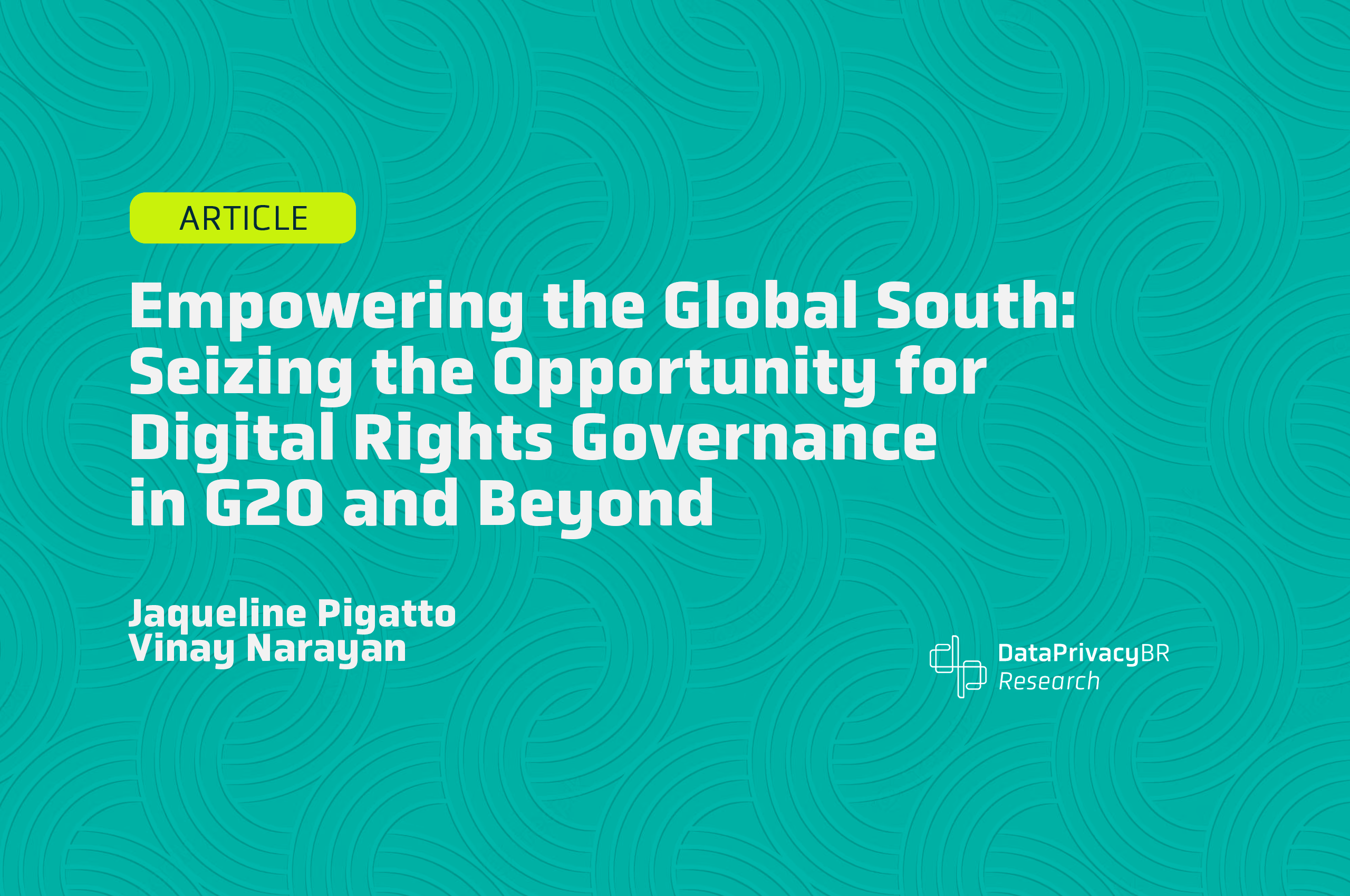 By Jaqueline Pigatto
[1] [1]

Jaqueline Pigatto is a research coordinator in the field of Governance and Regulation at the Data Privacy Brazil Research Association.
and Vinay Narayan
[2] [2]

Vinay Narayan is a Senior Manager at Aapti Institute, India
The G20 represents a critical policy space for addressing emergent challenges on a global scale and its importance as a platform is pronounced when we consider its significance for the Global South. Between 2022 and 2025, four countries from the Global South are assuming the presidency of the Group, setting a unique opportunity to develop an agenda with these people's interests. 
Historically, international decision-making has often been dominated by powers and institutions from the Global North, who often have the most say in setting the agenda. The G20, instead, provides an opportunity for emerging economies and developing nations from the Global South to set the agenda and have it reflect their priorities. Between 2023 and 2024, India and Brazil are sharing their common concerns, especially with regard to the digital agenda, aiming for their own levels of digital sovereignty.
One such area of commonality has been the push for digital public infrastructure (DPI). DPI, as the Indian G20 Presidency notes, can be understood as a set of shared digital systems which are secure and interoperable, built on open standards and specifications to deliver and provide equitable access to public and / or private services at societal scale and are governed by enabling rules to drive development, inclusion, innovation, trust, and competition and respect human rights and fundamental freedoms. The notion of DPIs has gained significant momentum in recent years and is in many ways a response to the rapid digitisation that has crept into various facets of our lives and the manner in which this has taken place – namely the private corporate ownership or control of most of the digital infrastructure used by society at large. 
Messaging platforms (such as WhatsApp), e-commerce marketplaces (like Amazon and AliExpress), transportation providers (like Uber) and payment systems (like Apple Pay and Google Pay) have become intertwined with our daily lives, and are of critical importance to societal functions. WhatsApp's global outage a few years back affected numerous businesses and public service delivery (with many countries running WhatsApp chatbots to provide public health updates). App-based transportation services such as Uber have had some negative impacts on public transport. Going beyond platforms and marketplaces, the specter of private ownership in digital infrastructure is most concerning when we look at cloud infrastructure. Three private companies – Amazon, Microsoft and Google – control nearly 2/3rd of the market share of cloud infrastructure and provide it to sectors of national importance.
Control over the digital infrastructure also provides private entities with effective control over the data generated by the use of these infrastructures. Insights derived from this data have significant potential for public good, but are often siloed with restricted access. The private ownership and control over these digital infrastructures and data within them is therefore of significant concern given the influence they wield, and their ability to cripple critical societal functions. 
In this context, DPIs provide the ability to wrest back control of critical digital infrastructures and place them in the public domain – thereby enabling digital service delivery in a transparent and accountable manner while unlocking societal value to foster development. India's Unified Payments Interface (UPI) is one such example. UPI is a payment system developed by the National Payments Corporation of India that facilitates instant inter-bank peer-to-peer and person-to-merchant transactions. UPI has significantly broadened access to digital banking and has become the most preferred mode of payment in India. The success of the UPI has also seen India share the technology with other countries including France, Australia, Singapore, UAE and Saudi Arabia.
DPIs could prove especially important for Global South nations in an environment where trends in cross-border data flows seem to be dominated by traditional powers. The Regional Comprehensive Economic Partnership (RCEP), formally signed in November 2020, represents the agreement with the largest number of parties committing to high-standard data and digital trade provisions, with 15 contracting parties. The RCEP provisions on cross border data flow and data localisation provide significant leeway to member states to put in place data localisation norms or norms that restrict cross border data flow. This is largely attributable to China, who has a preference for data localisation norms for certain categories of data, and a strong preference for oversight around data flows. 
If the RCEP is an indicator of what a possible WTO Joint Initiative on E-commerce that has large scale global consensus could be like, it is likely that countries that are keen to maintain control over the flow of data will be legally free to do so. Adopting DPI systems can provide countries with greater autonomy over data flows involving their citizens as the underlying infrastructure for crucial public services is developed and built within the country. 
Digital governance has been a historical multistakeholder topic, always involving debates and decisions in different spaces, with the private sector, civil society, technical community, and government representatives. However, with increasing participation and agenda-setting from the government and industry, there is a strong need for other actors to have their voices heard to ensure the equitable development of digital solutions. The G20 can play a pivotal role here through its official engagement groups – including Civil20 (for civil society), Labour20 (for trade unions) and Think20 (for think tanks). The convergence of agendas through different engagement groups can have significant power in surfacing critical issues before world leaders – and this is possible, especially for civil society with the C20 and T20 groups. 
Given the common interests of the Indian and Brazilian G20 presidencies in digital strategy broadly and DPIs more specifically, the engagement groups are an apt forum for civil society organisations from both countries to further the agenda of equitable digital development. For example, Aapti Institute worked with the Indian G20 Presidency and the UNDP to create a handbook designed as a practical and public resource that low and middle-income countries (LMICs) in particular can utilize in building inclusive and rights-based DPIs.
For the 2024 presidency in Brazil, Data Privacy Brazil Research Association is articulating conversations among government members, civil society, and think tanks representatives to set the goals and priorities for the digital agenda. This partnership between the two institutions means that we can have a transfer of learnings and experiences with the G20 presidency from India to Brazil, thereby ensuring continuity in civil society's engagement for equitable digital development.
This agenda, beyond the G20, should also find resonance within the BRICS, now expanded to BRICS+. These processes are clear signs of the Global South's demand for effective participation in global governance, although there are concerns even within these spaces, regarding non-democratic countries. These new challenges require an even more active participation from civil society to ensure developments that are in line with fundamental rights and are genuinely beneficial to society. Demands on governments and proposals for the development of technologies and public services should prioritize open, safe, and inclusive spaces, emphasizing transparency and multistakeholder dialogue. The legitimacy of these spaces will be determined by their alignment with the agendas set forth by civil society and experts in areas such as artificial intelligence, information integrity, and digital public infrastructure. Furthermore, global civil society should seize the opportunity to elevate a common agenda from engagement groups that cannot be ignored by this governance.
Veja Também
At UNCTAD eWeek, Data Privacy Brasil will discuss the intersection between digital economy and human rights in AI regulation

The UNCTAD eWeek, an initiative of the United Nations Conference on Trade and Development (UNCTAD) in partnership with eTrade for all, will occur from the 4th until the 8th of December.

Data Privacy Brasil's contribution to the Thematic Deep Dive of Artificial Intelligence and other Emerging Technologies of the Global Digital Compact

As other civil society organizations already pointed out, notable preference was given to the speech of Member States, UN agencies, and the private sector, at the expense of human rights civil society organizations, which prevented the speech that had been prepared by the DBPR and other civil society stakeholders.

Data Privacy Brasil Research Association contributes to UN open call on the relationship between human rights and technical standard-setting processes

We received a call as an opportunity to submit suggestions to inform the OHCHR report on the relationship between human rights and standard-setting processes for new and emerging digital technologies.

Our second workshop of a series about technical forum talks about the International Telecommunications Union

In the second meeting of the Datafication and Democracy Workshop Series, we received Raquel Renno, Digital Programme Officer of Article 19, who spoke about the International Telecommunication Union (ITU) for third sector organizations.

Why should we all pay attention to the Brazilian Digital ID system?

The implementation of digital identity systems is increasing around the world, especially in Global Southern countries. The model widely adopted is known as Big ID, promoted by or linked to public administration bodies which use centralized biometric databases to identify and authenticate citizens (Access Now, 2021).