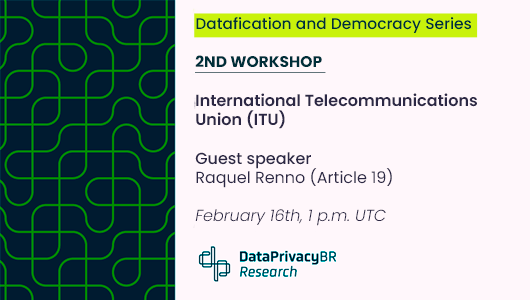 Our second workshop of a series about technical forum talks about the International Telecommunications Union
In the second meeting of the Datafication and Democracy Workshop Series, we received Raquel Renno, Digital Programme Officer of Article 19, who spoke about the International Telecommunication Union (ITU) for third sector organizations.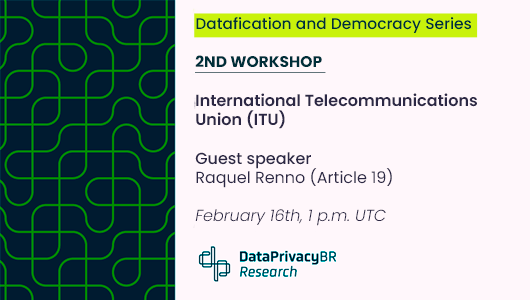 Last February 16th, a Workshop about the International Telecommunications Union (ITU) was hosted by the Data Privacy Brasil Research Association. It was the second event of the Datafication and Democracy Series, a learning series about the relationship between datafication processes and democracy issues at international technical forums.
This time, we had a presentation led by Raquel Renno, Digital Programme Officer of Article 19 focused on spectrum management issues, primarily in but also around the ITU's Radiocommunication Sector. Renno has been working with topics related to human rights and the social impact of digital technologies since 2003 in educational and digital rights organizations, and since 2010 she is a member of the International Center for Information Ethics (ICIE).
In this encounter, which was designed to provide collective learning, we tried to convey the message that the ITU should not be left as a space dominated solely by technical experts. So, stay here with us! In this blog post, we will tell you more about the workshop.
The ITU structure 
The International Telecommunication Union (ITU) was founded in 1865, and since then, the agency has worked to promote international cooperation in the field of information and communication technologies (ICTs).
Considering this, Renno started her presentation by talking about the ITU's overall structure, which consists of three key sectors: the Radiocommunication Sector (ITU-R), the Standardization Sector (ITU-T), and the Development Sector (ITU-D).
In general knowledge, the ITU's three sectors have distinct responsibilities. The ITU-R sector is responsible for coordinating the use of radio-frequency spectrum and satellite orbits worldwide. It sets standards for radio equipment and systems, as well as develops technical guidelines for ensuring the safe and efficient use of radio frequencies. The ITU-T has its focus on developing and coordinating global standards for ICTs, such as telecommunications networks, multimedia, and Internet Protocol (IP)-based networks. It also ensures the interoperability of ICTs, which means that different systems can communicate with each other effectively. Finally, the ITU-D sector focuses its efforts to expand access to ICTs, particularly in least-developed countries, by developing and implementing ICT-based solutions to global challenges such as climate change, healthcare, education, among others.
A rich overview of the main activities and the agenda of each sector
The Radiocommunication Sector was established in 1927, and its responsibilities have evolved over time to keep pace with technological advancements.  In a few words, the presentation underlined that, nowadays, the main ITU-R sector´s goals are defined as (i) to ensure the rational, equitable, efficient, and economical use of the radio-frequency spectrum by all radio communication services; (ii) to ensure interference-free operations of radiocommunication systems; (iii) to accommodate the launch of new services and facilitate any new developments. Considering this profile, some of the topics – which are constantly changing – being currently discussed in study groups of the ITU-R are spectrum management; radio wave propagation; satellite services; terrestrial services; broadcasting services; and science services.
As Renno commented, the goal for somebody with a  human rights background may aim "to find possible harmful consequences of the proposed technical criteria and standards", for example, as she is doing there. This gives an idea of how human rights activists approach when navigating in this very technical space and highlights the importance of their advocacy. That said, Renno shared with us the characteristics of the main meeting and conferences of the ITU-R sector, which can help us follow, though not always directly, its key moves. As Renno explained, the Assemblies and Study Groups have a more continuous flow. Unlike the World Radiocommunication Conference – which happens every four years –, which is responsible to revise the regulations and associated frequency assignment; to address any related matter of worldwide character, and to determine questions for study by Assembly and its Study Groups.
Moving forward, the Standardization Sector, or ITU-T, was established in 1947, and its mission has expanded to cover a wide range of ICT-related standards. Its work focuses on the technical aspects of the telecommunications industry, including network architecture, protocols, and equipment interoperability.
The ITU-T comprises several study groups that are responsible for creating standards and recommendations for various areas of telecommunications. Study Group 2 deals with operational aspects of service provision and telecoms management, while Study Group 5 focuses on the environment and climate change. The ITU-T Study Group 9 is responsible for developing standards related to broadband cable and TV, including new technologies, accessibility, and cybersecurity concerns related to broadband cable and TV networks. Study Group 12 deals with performance, Quality of services (QoS), and Quality of experience (QoE), and Study Group 13 is dedicated to next-generation networks. Optical and other transport network infrastructures fall under the jurisdiction of Study Group 15. Study Group 16 focuses on multimedia services, applications, and terminals, while Study Group 17 addresses cybersecurity. Finally, Study Group 20 is responsible for the Internet of Things and smart cities. Connecting with that, Reno highlighted that IoT, smart cities, biometric systems, AI systems, and metaverse are "examples of emerging technologies discussed and standards defined in the T sector".
Looking ahead, Renno commented that ITU-D's main goals are related to fostering international cooperation on ICT development issues; enhancing confidence and security in the use of telecommunication and ICTs; building human and institutional capacity, and providing assistance to countries with special needs.
First things first, the Development Sector is known as the policy-oriented sector. This way, Renno confirmed that it is at the ITU-D where it is possible to identify a higher number of Civil Society Organizations (CSOs) attending the meetings, and consequently where we, digital and human rights actors, could work together to build our common goals and strategies more easily. But, it is important to have in mind that the recommendations and best practices from the ITU-D, unfortunately, are not binding. Which, right off the bat, can lead to disappointment.
Still, regarding ITU-D, Renno presented the main discussion instances: The Study Groups; the Global Symposium for Regulators (GSR); World Telecommunication/ICT Indicators Symposium (WTIS); and the World Telecommunication Development Conference (WTDC), a forum which occurs every four years and brings together representatives from governments, private sector, academia, and civil society, and in which the member-states adopt resolutions and recommendations.
Is the ITU or isn't it truly an open space for civil society? 
Differently from other technical forums – such as the Institute of Electrical and Electronics Engineers, Inc. (IEEE) or the Internet Corporation for Assigned Names and Numbers (ICANN) –, the ITU has a multilateral governance structure, being an UN agency. Although actors like the private sector, academia, and non-profit organizations can take a part as members (there's a 71,550 Swiss Franc fee to be paid if you are approved by the ITU), they do not have the right to vote. It is because, in theory, only the member-States have the final word.
Private sector members are organized into Sector Members and Associates, as well as many State Delegations. So, they occupy a favored position that allows them to participate  in many ITU activities and contribute to the ITU decision-making processes. It is well-known that the ITU tends to be a space dominated by experts in technical aspects and by representatives of the private sector, with little effective civil society participation.
Often, the technical language used by experts can make it difficult for people outside the field to participate, and financial barriers can also be an obstacle to effective participation in ITU events. This way, the workshop confirms that there is still a long road to pave in order  to make the ITU a truly open and inclusive space.
The Data Privacy Brazil Research Association remains committed to actively engaging civil society in technical forums, and will be promoting other activities aiming to build civil society's capacity to participate in these technical spaces. Stay tuned to our website for information on the upcoming workshops of this series.
Veja Também
At UNCTAD eWeek, Data Privacy Brasil will discuss the intersection between digital economy and human rights in AI regulation

The UNCTAD eWeek, an initiative of the United Nations Conference on Trade and Development (UNCTAD) in partnership with eTrade for all, will occur from the 4th until the 8th of December.

Data Privacy Brasil's contribution to the Thematic Deep Dive of Artificial Intelligence and other Emerging Technologies of the Global Digital Compact

As other civil society organizations already pointed out, notable preference was given to the speech of Member States, UN agencies, and the private sector, at the expense of human rights civil society organizations, which prevented the speech that had been prepared by the DBPR and other civil society stakeholders.

Data Privacy Brasil Research Association contributes to UN open call on the relationship between human rights and technical standard-setting processes

We received a call as an opportunity to submit suggestions to inform the OHCHR report on the relationship between human rights and standard-setting processes for new and emerging digital technologies.

Why should we all pay attention to the Brazilian Digital ID system?

The implementation of digital identity systems is increasing around the world, especially in Global Southern countries. The model widely adopted is known as Big ID, promoted by or linked to public administration bodies which use centralized biometric databases to identify and authenticate citizens (Access Now, 2021).